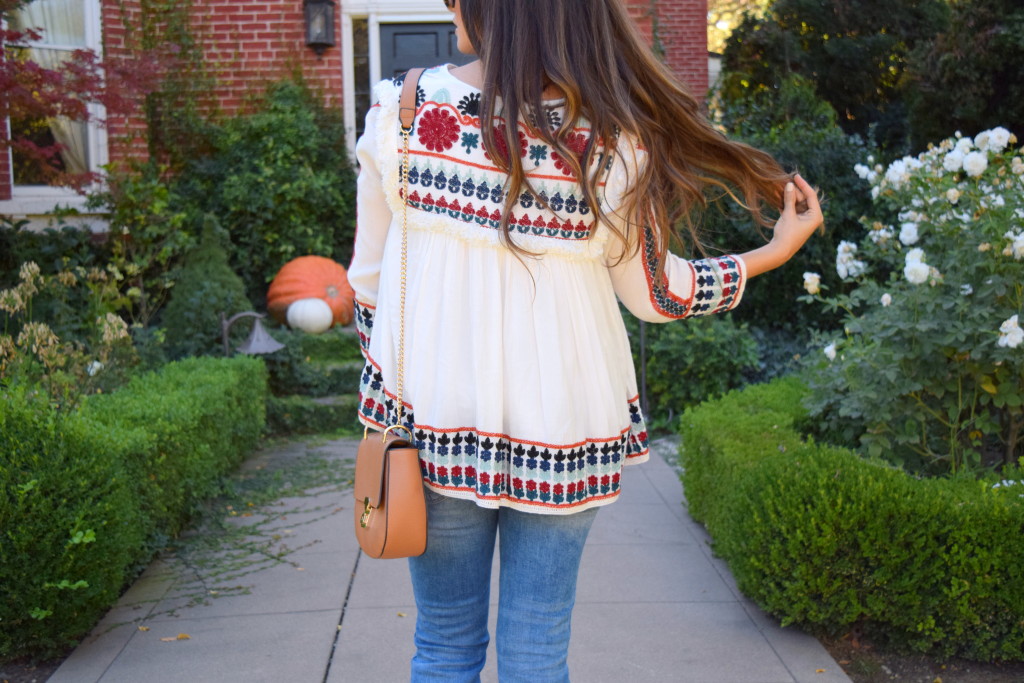 We are just one week away from our move back to LA and it's safe to say I am freaking out a little bit. When I moved to San Francisco, I was so excited to do and see so many things. Naturally when you live somewhere you think you have all the time in the world to get around to trying that new restaurant or to visit that amazing hiking trail you have heard so much about. While I did do and see a whole lot over the past 9 months I can't help but feel like my time here was cut short. There is so much I still want to experience here, but I trust that everything happens for a reason. I am happy that I was able to live in this beautiful city. It will always hold a special place in my heart.
Jacket: Zara/  Boyfriend Jeans/ Boots: Zara/ Bag: Forever 21 (sold out) similar / Sunnies
I can't stop wearing this top/jacket. If you have been following my blog over the past few months, you know that I have quite an affinity for all things embroidered,tasseled and a little bit boho. Zara had a similar style earlier this year but with all blue embroidery as part of their collab with Leandra Medine of Man Repeller.It was love at first sight and I was pretty disappointed when I found out it was sold out. Like I said before, everything happens for a reason because they came out with this version which I love even more. Moral of the story, always check back if you really love something because chances are it just might come back in stock in some way, shape, or form.
Shop my style and other embroidered styles I am loving below.
Xo,
Alissa