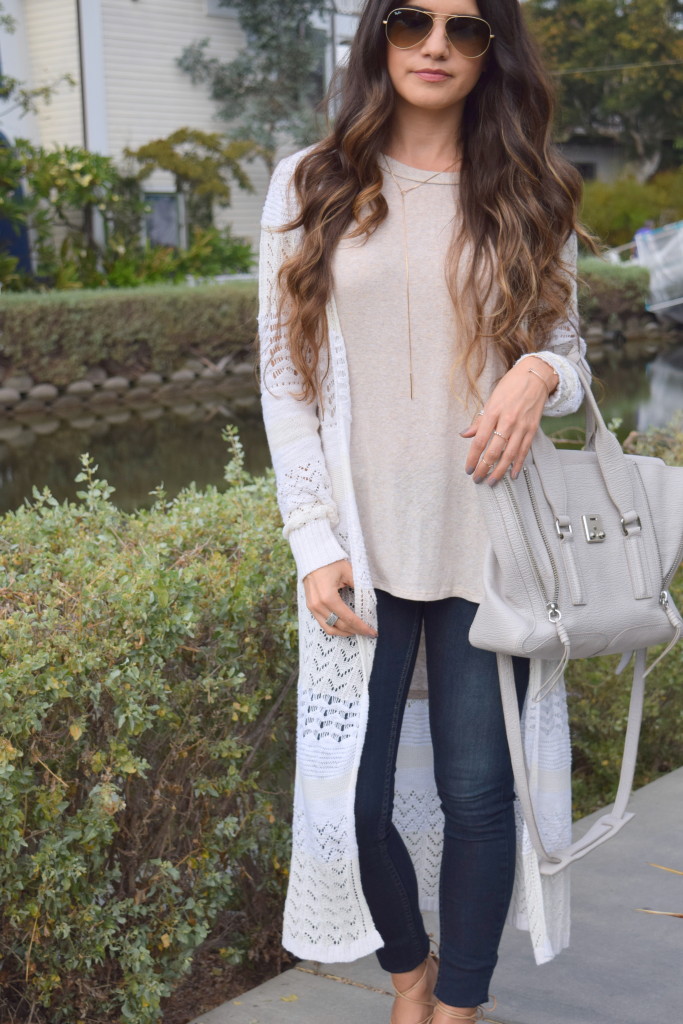 Starting today's post with a fun fact: My boyfriend and I met six years ago (for the second time) on Halloween in Vegas of all places. Never did we think that night would turn into what it has or that we would be moving on that very same day six years later back to Los Angeles after less than a year of living together in San Francisco and three years long distance from Austin to LA. It has been a whirlwind to say the least, but I wouldn't change a thing. After a long day of moving (still on the hunt for our new place) we wanted somewhere relaxing to spend the weekend. I found the cutest cottage on the Venice canals and it was the perfect spot to unwind. I had never been to the canals even though I am an LA native. Now that I am back in SoCal, it is a goal of mine to get out and explore more instead of sticking to my comfort zone. There is so much to do and see down here! Can't wait to share with you!
Sweater/ Skinny Jeans/Sunglasses/Handbag/Flats- Zara similar/Lariat Necklace -sold out similar
The weather was a little unpredictable while in Venice Beach, going from hot to foggy in a matter of hours. I wanted to be comfortable for our day full of exploring so I opted for a casual jeans and tshirt look. We had a delicious brunch at Gjelina and stopped into a bunch of shops along Abbot Kinney. I'm used to carrying around a light layer and this sweater was perfect for adding texture and warmth once the fog rolled in. I have been really loving layered delicate jewelry lately. This ring set is a perfect way to start building stacks and you won't feel too guilty if you misplace one.
Xo,
Alissa