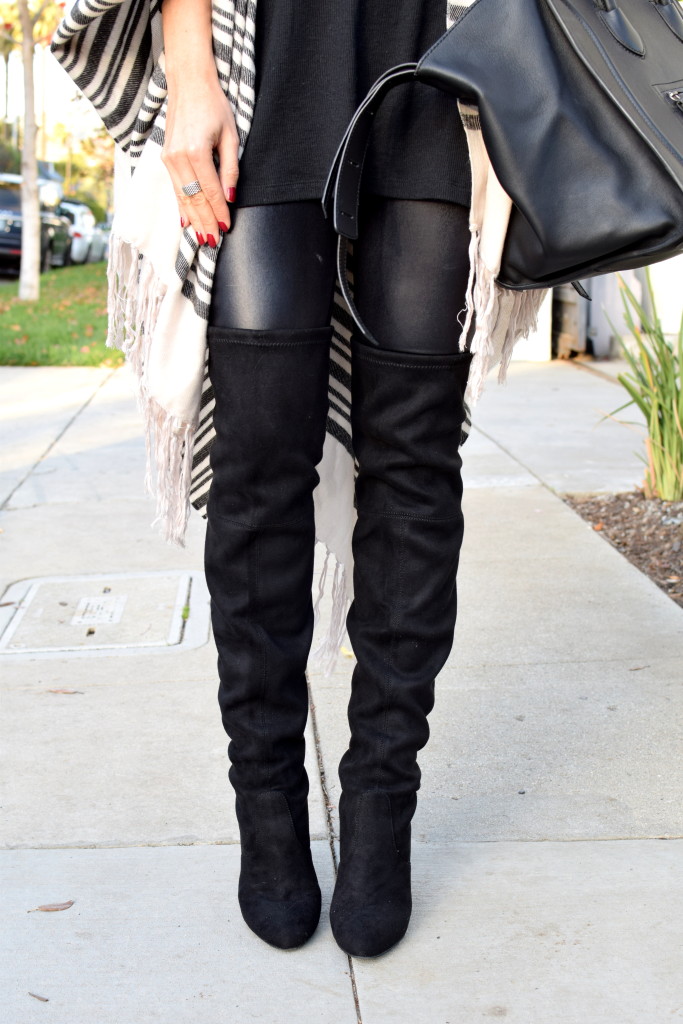 As I write this it is pouring rain in LA and I am rather happy  about it. There is something so calming about listening to the pitter patter of rain on the sidewalk outside. Makes me want to snuggle up on the couch with some tea and a good book. Here's to hoping that winter stays around a while longer although I highly doubt it. While it is here, I am going to make the most of these chilly days by wearing some staple items I have been living in. Over the knee boots, leather leggings, and ponchos are a few of my favorite items for winter. Hoping to get a little more wear out of them before Spring officially arrives!
Poncho// Leggings//Tunic//Boots//Sunnies//Necklace
I have loved "leather" leggings for a few years now and happy to see they are having a moment this season. I know there is an unwritten rule about not wearing leggings as pants, but this pair makes it totally doable in my book. They make an outfit more polished and thought out over the standard cotton legging. The key to making leggings suitable for any occasion is pairing them with a longer tunic style top. I love wearing mine with over the knee boots for a dressed up, but still comfortable look. They look really cute with a great pair of sneakers too if you are wanting to do something a little more athleisure. Another item that is deceptively chic is the poncho or blanket scarf. Not sure who thought of making something so comfortable fashion forward, but I am all for it. Let's be honest, you are basically wearing a glorified blanket out in public and I think that is a dream come true. A Blanket scarf in a neutral color and pattern is a great way to try the trend since you can always just wear it as a scarf if you decide the look isn't for you. For those of you on the more petite side, like myself, pairing a poncho with otk boots is a great way to add some height to your look while also helping elongate so that the poncho doesn't overwhelm your ensemble. I love how lightweight this poncho is and it now comes in a beautiful rust color that is great for the upcoming Spring season. What styles have been your winter staples this year?
Xo,
Alissa