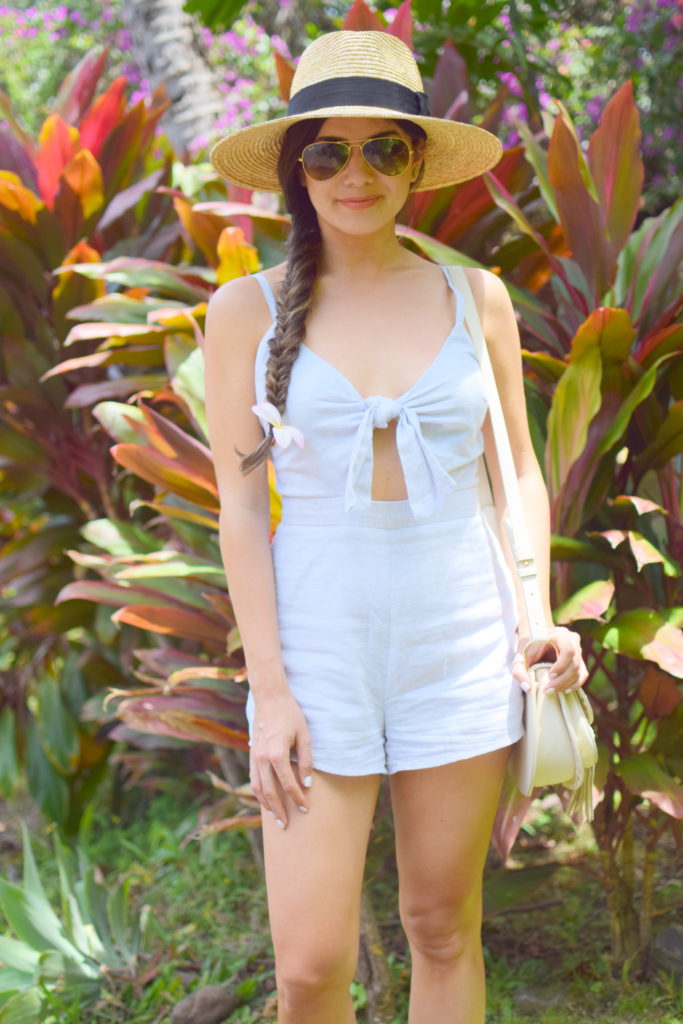 I wore this cute little romper to brunch during our vacation in Maui. I packed a million outfits with the intention of shooting a couple of looks, but being in the moment prevailed. It was a blissful week of no makeup and salty air dried beach waves with the occasional braid. I had never been to Maui or any of the Hawaiian Islands for that matter. I loved how the humidity made my skin and hair feel so moisturized- quite different from dry California.
We got into a routine rather quickly after the first few days of being on the island. Early morning walk and coffee before deciding where to head for breakfast. Waking up was a whole lot easier on Maui thanks to the time difference. The soothing sound of the waves crashing on the shore and beautiful orange pink skies each morning made me understand why some people never leave! I could get used to that island life.
I'm sure you have noticed my obsession with this hat by now. I had been searching for a great straw fedora for what seemed like forever! This hat is a must have for summer. It is great quality & an amazing price point (under $60!). I love how structured it is and have been wearing it non-stop!
Summer is synonymous with rompers for me. This light-weight style was perfect on this particularly warm morning. I especially love the tie front detail! Similar styles I am loving right now- here, here and here. I paired it with lace up sandals and this cute crossbody bag (affordable dupe for the Chloe Hudson bag)!
Thanks for stopping by!
Xo,
Alissa