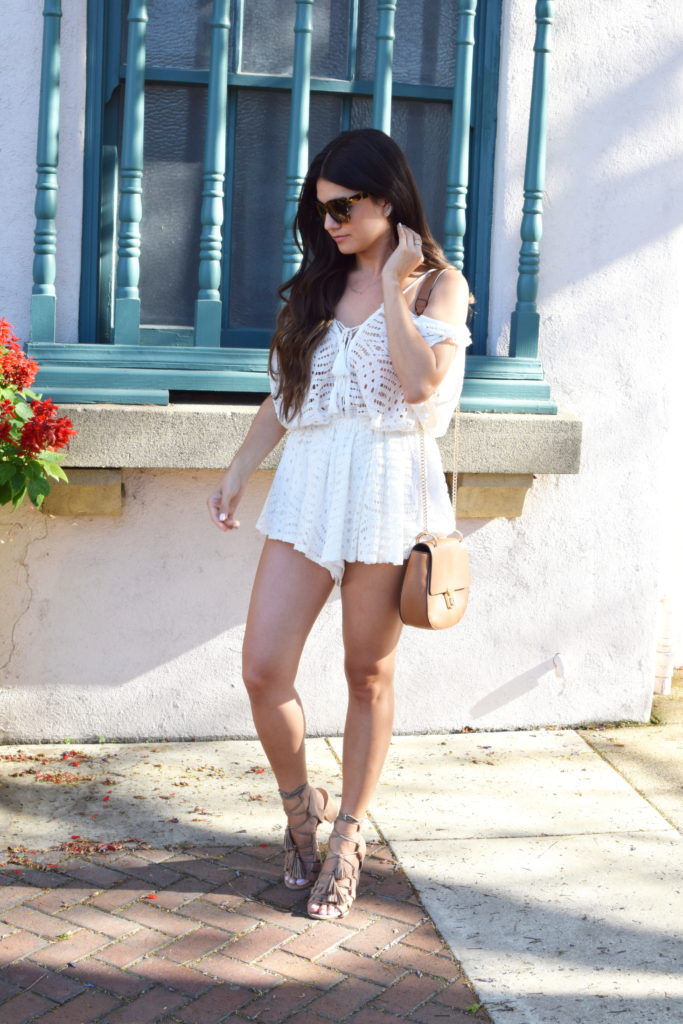 Rompers are one of my favorite styles to wear year round, but especially in summer.  It is great to have a complete outfit in one piece of clothing & I always feel more comfortable in a romper than I do in a dress for everyday wear.
If you have been following the blog for a while, then you know I have a love for white lace, crochet, and feminine bohemian elements. This cold-shoulder romper incorporates beautiful white crochet lace with lace up detail at front & an open back. I would wear this look for a summer soiree & think it is also super cute for any future brides-to-be out there that want an alternative to wearing a dress to showers & other celebratory events. And wearing white always helps to accentuate that summer tan!
On a more personal & serious note, I wanted to take the time to remind everyone to never take a single day for granted and to cherish the ones you love. Tomorrow is not guaranteed, so make the most of today & spread love. These are things I have been reminded of recently & really put what is most important into perspective. I hope this message brightens your day & gets you through anything you may be going through! Just know you are not alone & we all have struggles- so be kind because you never know what someone else may be going through!
Xo,
Alissa