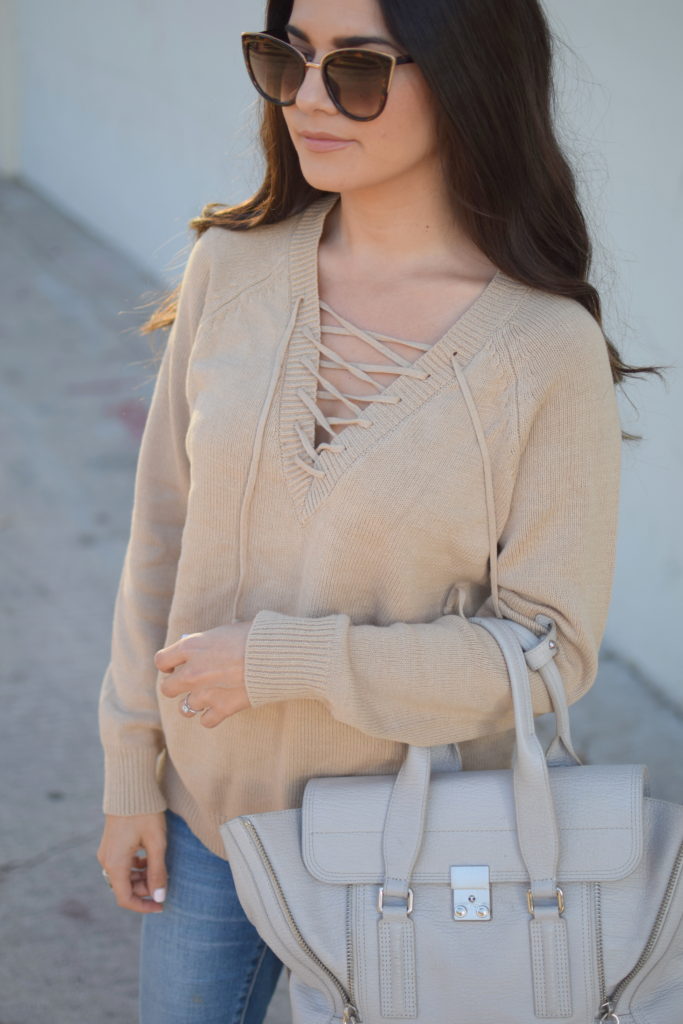 Thanksgiving is days away and I am more than looking forward to it! The last two months have been non-stop with wedding planning and life in general. I'm pretty sure this is exactly the same thing I said in my last post, but this is real life so I have to keep it honest. The holidays are just that much more special this year with our engagement and lots of 2017 babies to celebrate. There is nothing better than soaking up a day full of yummy eats and family.
When it comes to Thanksgiving outfits, comfort is key. My family keeps it pretty casual so jeans and a cozy sweater are the perfect pieces to wear. I have worn these jeans non-stop since getting them this past summer. They have easily become my favorite pair and the best part about them is that they get softer with every wear! I usually love a thick chunky knit, but California weather is unpredictable so it is good to have some lighter weight sweater options on hand. This lace up sweater is the perfect flattering camel color. Similar styles I love here, here (on sale!), and here 40% off. These peep toe booties were a favorite find from the Nordstrom Anniversary Sale. They come in two other colors and are currently on sale-40% off!
Thanks for stopping by!
Xo,
Alissa