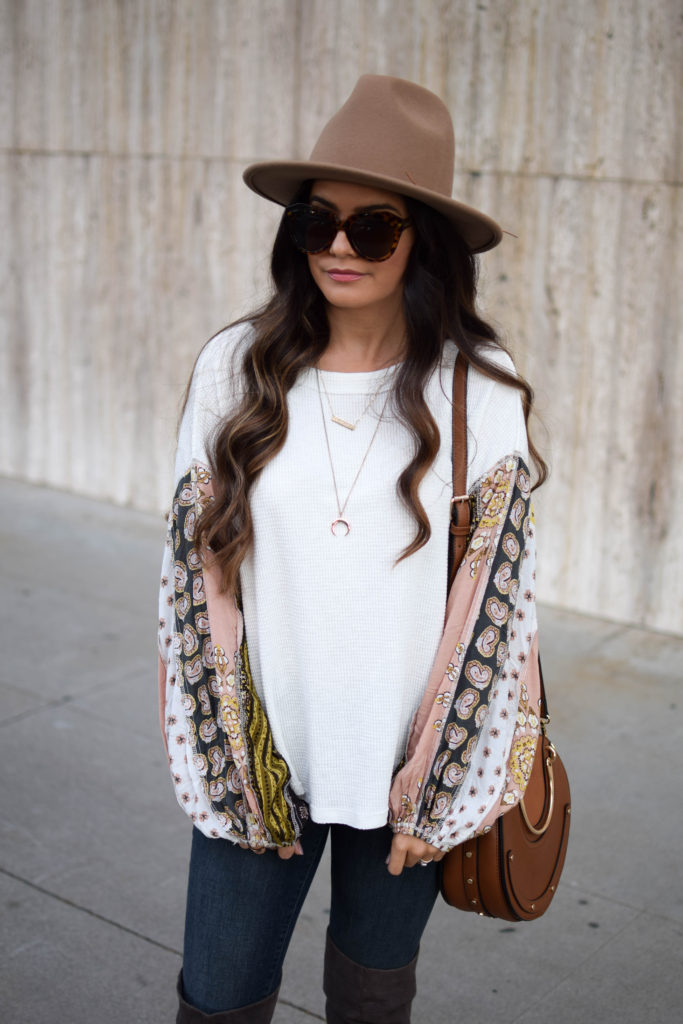 Hello! I have been noticeably absent from blogging over the past six months, but I am officially back and planning on finishing out the year strong with regular posts! Thanks for sticking with me while I shifted my focus towards our wedding (more on that soon!). I am so thankful to have this creative outlet and to be able to connect with so many amazing people each day. Wanted to share this comfy, casual look that I am planning on wearing to Thanksgiving this year. Comfort is key on Thanksgiving and I always like to wear pieces that are a little "relaxed".
thermal| denim| boots- similar| sunnies| bag| hat
This thermal is so soft with a loose fit that is still flattering- perfect for the inevitable Thanksgiving food baby. I love the pattern on the sleeves-so pretty & makes it a little more dressed up than a plain thermal.
Finally found the perfect camel felt fedora– under $70
My favorite sunnies – go with everything and currently 20% off
Hope you all have a wonderful Thanksgiving holiday with friends and family! Check back tomorrow for all the info on the best cyber week deals & my favorite picks!
xo,