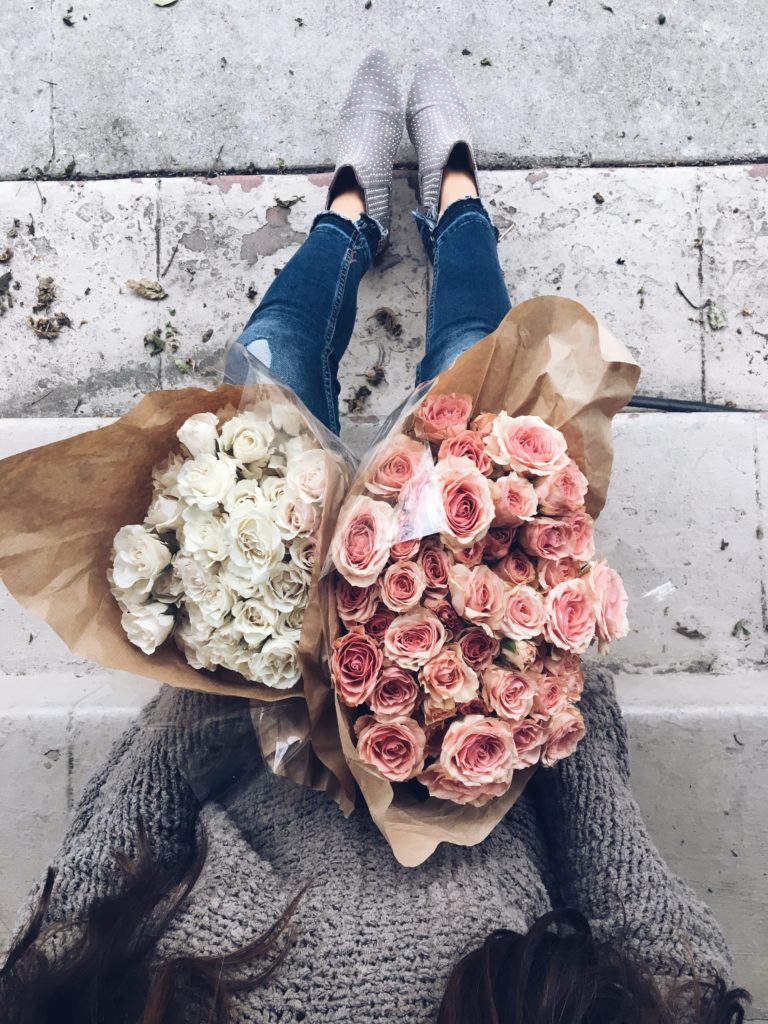 February is officially here and naturally all I can think about is my favorite four letter word. I don't like to get too caught up in the hype of v-day, but who can resist celebrating a day devoted to love?! With the Hallmark holiday cheesy gifts aside, celebrating love can be something we practice daily and doesn't necessarily need to be only romantic love. Let's spread love all day everyday!
Five Ways to Spread Love
1. Show yourself some Love
Taking care of myself and being more mindful of how I do this each day is one way I spread love daily. This can be as simple as doing a face mask or getting up earlier to get in a work out, but doing something to better myself in turn makes me happier and more pleasant to be around. When I'm feeling good, I am more likely to share a smile with a stranger or lift someone up that is having a rough day.
2. Give a Compliment
The power of a compliment is seriously underrated. I can't tell you how many times I think in my mind something really nice about someone, but being the introvert that I am I keep it to myself. Instead of just thinking that nice thought, I am making an effort to speak up and share it with the person. It makes the person you are complimenting feel good about themselves and it makes you feel great too knowing you brightened their day! Win win and love all around!
3. Do something nice JUST BECAUSE
Doing something nice for someone is great and all, but if we come from a place of expectation then it can actually end up resulting in resentment and other not so loving feelings. Instead of doing something nice for someone & keeping tabs, simply do it JUST BECAUSE. I think it is sadly rare these days that people do something nice for no other reason than just being nice. Your random act of kindness will really make the recipient take a step back and realize there really are nice people in the world. Heck, they might even pay it forward. I am challenging myself to do this more and hope you will too. The world needs it more than ever.
4. Be Grateful
I love the quote "the secret to having it all is knowing you already do". No matter what I have going on in my life I always try to remind myself of my blessings. One of my biggest blessings are the people I have in my life that I hold dear. Making sure those people know how grateful I am for them is so important to me. Even just sending a simple text saying "I love you and I am grateful for you" can remind someone that they are valued and cared for.
5. Be Present
This is a big one that takes so much effort these days and yet is so simple. Although I love the digital space and how it allows for connection on another level, there needs to be importance and focus put on personal in person human interaction. We are always so focused on connecting through a screen that we can forget to connect with the person sitting next to us IRL. Instead of binge watching Instagram stories, call a friend to catch up or eat dinner after a long work day with your significant other or roommate without phones or TV. Have a conversation and listen. I think we can feel more fulfilled, loved and need less acceptance from people behind a screen if we are present and cultivate our tangible relationships. Also, it is so refreshing to hear about someone's day or how life is going from them personally instead of passively watching what they share from our phone. Being present and tuned-in in the moment can only help build your bond and nourish the relationships with those you care for. All this to say, simply being present is showing love.
I hope these five simple actions help you spread love in your daily life!
Let me know in the comments the ways you spread love!
Xo,